"White" Cindy is an inmate at Litchfield Penitentiary. She is only seen once and is a recurring joke in the series for Cindy Hayes aka "Black Cindy".
Physical Appearances
[
]
"White" Cindy is Caucasian with ashy, blonde hair. She weighed 130 pounds upon intake (though she is noticeably heavier now) and is forty-six years of age.
Biography
[
]
Before Litchfield
[
]
Before "White" Cindy was incarcerated, she had been from Omaha, Nebraska, and was incarcerated for media piracy. ("Sing It, White Effie")
With one minute to spare until count, Cindy Hayes makes her way to her dorm, where she is stopped by Wade Donaldson. Cindy exclaims that she has one minute left, and asks why "White" Cindy isn't being stopped. Donaldson claims that he is not looking at "White" Cindy, and therefore cannot give her a shot. ("Comic Sans").
It is revealed that "White" Cindy's last name is Ward in "Work That Body For Me".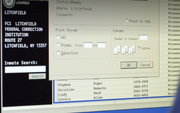 "White" Cindy is mentioned in "Sing It, White Effie" as Ouija proves her skills in the game of "guess the inmate from the file". Ouija guessed her easily in the game. This also proved "White" Cindy was involved during the riot, and may have been evacuated out of the prison during the storm in "Storm-y Weather".
Appearances
[
]
[

]