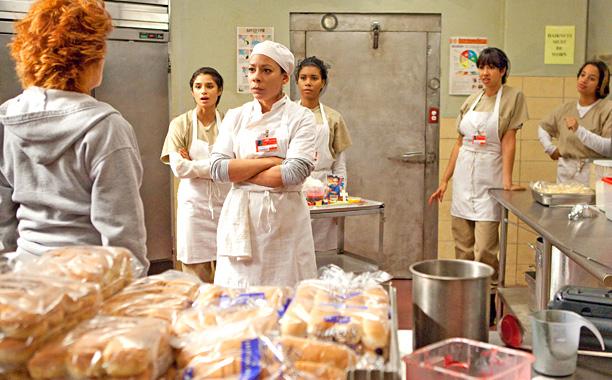 The Spanish Harlem are a group of women that belong to the Latina women at Litchfield Penitentiary. The group was dominated by Hispanics, but after during Season Four, Dominicans are seen as dominant. There are also Cubans, Colombians, and Puerto Ricans.
Hispanic
Edit
Gloria Mendoza - Leader until Maria takes over in Season Four, she acts as a mother figure, and ran the kitchen for a while. She is in prison for SNAP fraud.
Aleida Diaz - One of Gloria's closest friends, she is the mother of Dayanara. She was released early in Season Four for good conduct and currently lives with her boyfriend Cesar's other girlfriend Margarita.
Marisol "Flaca" Gonzales - She is a young latina woman who is in prison for drug fraud. She was shown as an outcast during Season 3 due to her ambition to leave her job in the kitchen and join the new "mystery" job (which turned out to be the Whispers sweatshop). She was then accepted into the Whispers fashion factory. She is the best friend of Maritza, both of whom were hired by Piper Chapman to wear her panties. She and Gloria eventually make up during "Trust No Bitch".
Maritza Ramos - The best friend of Flaca and daughter figure of Aleida. She used to work in the kitchen, but was transferred to be the new van driver in "Trust No Bitch". Her crime was shown to be grand theft auto.
Dayanara "Daya" Diaz - Aleida's daughter. She was reluctantly accepted after she and her mother, Aleida Diaz, came to a truce. She gave birth to her and John Bennet's daughter at the end of Season Three, and expected to give her away for adoption to Delia Powell, but in the end was forced to give her to Cesar due to her mother's actions. Unlike the others, she cannot speak Spanish, which frustrates the others.