Orange Is the New Black Presents: The Cookbook is a tie-in book to the Netflix series, Orange Is the New Black. Written by Jenji Kohan, Tara Herrmann, Hartley Voss, and Alex Regnery, the book features 65 recipes and 12 sidebars that expand on the fiction behind the show.
It is published by Abrams Books.
"Staffed and run by a band of misfit inmates, the kitchen at Litchfield is in many ways the center of the popular show Orange Is the New Black—a setting for camaraderie, drug smuggling, power struggles, and plot twists. And then there is the food. With 65 recipes, 12 sidebars that expand upon the fiction of the show, and 60 photographs from the show featuring favorite characters and memorable moments, Orange Is the New Black Presents: The Cookbook adds new dimensions to any fan's obsession.
The recipes cover three square meals a day, plus snacks/sides, desserts, and drinks. They include Red's Chicken Kiev, Miss Claudette's Coconut Cake, and Prison Punch. The sidebars include Taystee's sug­gested prison reading list, the recipe for Red's Homemade Homeopathic Remedies, and a prison glossary.
Chock full of in-depth information about the show, including recipe headnotes by the characters, DIY projects that emulate notable props, and prison factoids that help bring the show to life, this cookbook will bring a little piece of Litchfield right into your very own kitchen."[1]
Recipes from the Litchfield Kitchen 
Edit
Remember the Tamales Gloria made for the girls in the Spanish Harlem dorm?
There is a recipe for them in the OITNB Cookbook! Here is the recipe for Prison Pastelos (Tamales). In "Can't Fix Crazy", when Daya, Maria, Maritza, and Flaca are working in the kitchen under Gloria, Daya says that making tamales "feels like Christmas at home."
The full cookbook is available to buy here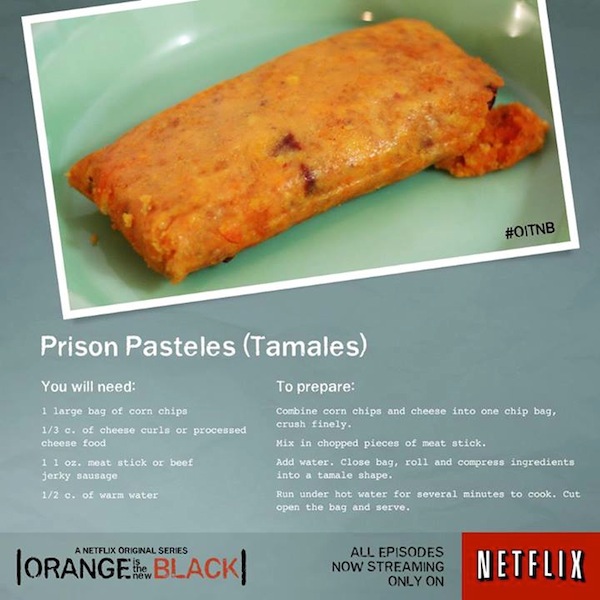 References
Edit