Glophia is the rivalry between Gloria Mendoza and Sophia Burset.
Relationship
Edit
Gloria wants her son, Benny, to visit her but he doesn't have a way to travel to Litchfield for visits. Gloria soon arranges for him to carpool to the prison with Sophia's wife and son. But things quickly go sour, as Sophia accuses Benny of being a bad influence on her "sweet boy", after he gets into a fight with another child. It's later revealed that the bad behavior was Michael's doing, not Benny's, which just causes tempers to flare even more between Sophia and Gloria. Sophia attempts to apologize to Gloria, but she overhears a conversation with Gloria mentioning that she doesn't allow people to make the same mistakes. A verbal altercation in the bathroom ends with Sophia shoving Gloria into a wall, which gives her an unintended black eye.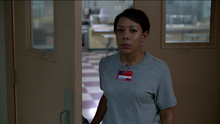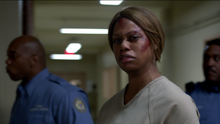 Their fight leads to
Aleida
spreading transphobic rumors about Sophia, causing Sophia's salon to be boycotted and leading to her being harassed and attacked by a number of inmates. Gloria is seen to be remorseful about the situation and is angry at Aleida's actions.
Sophia is still in the SHU with no signs of her being released, so Gloria tells Benny that he needs to inform Crystal and Michael where she is. This leads to Crystal demanding an explanation under a Freedom of Information request, but to no avail as MCC is a private company.
Gloria later sees Sister Ingalls trying to start a fire in the cafeteria and correctly deduces that she is trying to get sent to the SHU to help Sophia by taking a picture of her with a smuggled cellphone. Gloria tells the Sister that she needs to go bigger, and an understanding passes between them as Sister Ingalls hits Gloria in the face. Gloria loudly complains, and Ingalls is taken to the SHU.
Sophia is released after Caputo, frustrated at having his hands tied by MCC, uses the discovered cellphone to photograph Sophia himself and gives it to Danny Pearson. Gloria and Sophia make amends after Gloria clears the salon (now being used as a dealing spot by Maria's gang) so that Sophia can make herself up and feel like herself again.