Emily Althaus is an american actress. She portrays Maureen Kukudio in Orange Is the New Black.
Early Life
[
]
Althaus is from Louisville, Kentucky, USA. She attended duPont Manual High School, graduating in 2005.[1] She went on to study at Western Kentucky University and graduated in 2009 with a BFA in Performing Arts.[2][3]
Career
[
]
Althaus has a theater background. She made the transition to television when she starred in Sharing (2013), a TV movie written by Damian Lanigan. Her later roles include guest spots on Blue Bloods, The Impossibilites, Law and Order: Special Victims Unit and Togetherness[4].
Personal Life
[
]
Althaus is a supporter of the Black Lives Matter movement. She attended a march in Washington Park and is vocal on her twitter about her support. She is also passionate about helping to end the stigma surrounding mental health issues, citing her experiences growing up in an area where mental health was severely stigmatized whilst helping her mother cope with a sleep disorder.[5]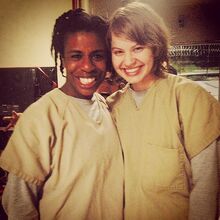 Trivia
[
]
Social Media
[
]
References
[
]