"Bora Bora Bora" is the tenth episode of the first season of Orange Is the New Black. It is the tenth episode of the series overall. It premiered on July 11, 2013. It was written by Nick Jones and directed by Andrew McCarthy.
Pennsatucky discovers a new skill; the inmates try to scare delinquent teenagers straight; Pornstache's side business suffers a tragic setback.
[needs expansion]
When Cesar goes by Bennett's apartment and asks how and where the baby will live, Bennett learns that Daya is pregnant. He is concerned that the system will discover he had sex with Daya, which could result in disciplinary action for both. He explains that his prosthetic left leg, originally thought to be from his tour in Afghanistan, is really from an infection when he had a cut and stepped into a dirty hot tub in Florida. Aleida warns him that he better start saving and planning for the baby and how to explain Daya's pregnancy, saying, "you got nine months".
Jean Baptiste visits Miss Claudette, and she greets him ecstatically.
Tricked by Watson and Big Boo and egged on by others, Pennsatucky starts a faith healing crusade. Adolescents participating in the Scared Straight program arrive at the prison, and the inmates attempt to intimidate the visiting juvenile delinquents; however, the inmates have difficulty intimidating Dina, who robbed a liquor store from her wheelchair. Piper succeeds by telling Dina the scariest part of prison is not other people, rather coming face to face with "who you really are".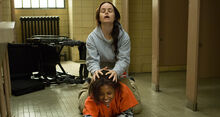 Pennsatucky's faith healing crusade ends after Piper sets her up by informing her about Dina and saying that Dina needs her help. Pennsatucky attempts to heal Dina by forcefully removing her from the wheelchair, after which she is confined to the psychiatric ward.
Tricia struggles to "make things square with Red". Mendez manipulates Tricia into selling illegal drugs. When the tour with juvenile delinquents begins, Mendez notices the state Tricia is in, realizes she's high and locks her in a closet to prevent her from revealing she is holding the drugs. When he returns to release her, he finds that she has taken the drugs, overdosed and died. Fearing he will be found out, Mendez manipulates the scene to make it look like a suicide by hanging. Devastated, Nicky and Red blame themselves for Tricia's death, and both resolve to bring Mendez down.
Flashbacks
Edit
Note: Flashbacks are arranged in chronological order, not the order in which they occur on the show.
Flashbacks depict Tricia's life on the streets of New York City; she often shoplifts but keeps a list of what she steals so she can one day pay everyone back. Initially resistant to prostitution along with her also-homeless friend Allie, she is later seen getting out of a man's car, before running into Allie, who has managed to turn her life around. Allie offers Tricia a place to stay, but Tricia declines when she finds out Allie has a boyfriend; it is hinted at that she may have harbored feelings for her friend. She is later shown in a vintage-type store trying to pay for some headphones that she stole, confusing the staff. However, she shoplifts a piece of jewelry simultaneously and is spotted; this seems to be the event that got her arrested and subsequently incarcerated.
Flashbacks depict Piper and Polly dressing for Polly's wedding and talking about their ideal partners, and later Piper meeting Larry for the first time.
Memorable Quotes
Edit
"Well, I think that when you have a connection with someone, it never really goes away, you know?. You snap back to being important to each other because you still are."
— Alex Vause to Piper Chapman
"You know I could tell you a lot of things that would scare you, Dina. I could tell you that I'm going to make you my prison bitch. I could tell you that I'm going to make you my house mouse, that I will have sex with you, even if we don't have an emotional connection; that I'm going to do to you what the spring does with cherry trees but in a prison way. Pablo Neruda. But why bother? You're too tough, right? Yeah, I know how easy it is to convince yourself that you're something you're not. I mean, you could do that on the outside. You can just keep moving, keep yourself so busy you don't have to face who you really are. But you're weak.

I'm like you, Dina. I'm weak too. I can't get through this without somebody to touch, without somebody to love. Is that because sex numbs the pain or is it because I'm some evil fuck monster? I don't know. But I do know that I was somebody before I came in here. I was somebody with a life that I chose for myself and now... now it's just about getting through the day without crying. And I'm scared. I'm still scared. I'm scared that I'm not myself in here and I'm scared that I am. Other people aren't the scariest part of prison, Dina. It's coming face-to-face with who you really are. Because once you're behind these walls, there's nowhere to run, even if you could run. The truth catches up with you in here, Dina, and it's the truth that's going to make you her bitch."
— Piper Chapman to Dina
Galleries
Edit
Flashbacks
Edit
First appearence of Angie Rice.
First (and last) appearence of Dina.
Last appearence of Tricia Miller.
When Larry meets Piper for the first time at Polly's house, he is watching Weeds. Jenji Kohan, creator, writer, and producer of the series, was also the creator, writer, and producer of Weeds.
The title stems from Lorna Morello's quote about wanting to go to Bora Bora, where she insists there are three Boras. It is also a play on the word 'borrow', which Tricia insists she is doing as she intends to one day repay for all the things she has stolen.
Suzanne recites Shakespeare's work twice in this episode: The first recitation occurs when Suzanne approaches one of the juvenile delinquents that are visiting the prison, and the lines she recites are from the play, Coriolanus. Later on in the episode, as Suzanne walks out of the bathroom, she stops for a moment in front of Piper and recites a line from the play, Measure for Measure.
Co-Stars

Torrey Berkson as Alicia
Rachel Brosnahan as Allie
Patrick Cann as Cop
Michael Cyril Creighton as Store Manager
Sean Patrick Doyle as Shop Clerk

 


Fenton Lawless as Man in Car
Justine Salata as Sara
Lexie Speirs as Rebecca
Adrienne Warren as Dina
Ace Reporter - Untouched and Arrived (Tricia's flashback - Store background music)
Sanford/Jay/Doherty - Red Sees Red (OST) (Credits)
Tricia's Flashbacks
Bora Bora Bora
Episode Navigation

Season 1
I Wasn't Ready  •  Tit Punch  •  Lesbian Request Denied  •  Imaginary Enemies  •  The Chickening  •  WAC Pack  •  Blood Donut  •  Moscow Mule  •  Fucksgiving  •  Bora Bora Bora  •  Tall Men with Feelings  •  Fool Me Once  •  Can't Fix Crazy
Season 2
Thirsty Bird  •  Looks Blue, Tastes Red  •  Hugs Can Be Deceiving  •  A Whole Other Hole  •  Low Self Esteem City  •  You Also Have a Pizza  •  Comic Sans  •  Appropriately Sized Pots  •  40 Oz. of Furlough  •  Little Mustachioed Shit  •  Take a Break From Your Values  •  It Was the Change  •  We Have Manners. We're Polite.
Season 3
Mother's Day  •  Bed Bugs and Beyond  •  Empathy Is a Boner Killer  •  Finger in the Dyke  •  Fake It Till You Fake It Some More  •  Ching Chong Chang  •  Tongue-Tied  •  Fear, and Other Smells  •  Where My Dreidel At  •  A Tittin' and a Hairin'  •  We Can Be Heroes  •  Don't Make Me Come Back There  •  Trust No Bitch
Season 4
Work That Body For Me  •  Power Suit  •  (Don't) Say Anything  •  Doctor Psycho  •  We'll Always Have Baltimore  •  Piece of Shit  •  It Sounded Nicer in My Head  •  Friends in Low Places  •  Turn Table Turn  •  Bunny, Skull, Bunny, Skull  •  People Persons  •  The Animals  •  Toast Can't Never Be Bread Again
Season 5
Riot FOMO  •  Fuck, Marry, Frieda  •  Pissters!  •  Litchfield's Got Talent  •  Sing It, White Effie  •  Flaming Hot Cheetos, Literally  •  Full Bush, Half Snickers  •  Tied to the Tracks  •  The Tightening  •  The Reverse Midas Touch  •  Breaking the Fiberboard Ceiling  •  Tattoo You  •  Storm-y Weather
Season 6
Who Knows Better Than I   •  Shitstorm Coming   •  Look Out for Number One   •  I'm the Talking Ass   •  Mischief Mischief   •  State of the Uterus   •  Changing Winds   •  Gordons   •  Break the String   •  Chocolate Chip Nookie   •  Well This Took a Dark Turn   •  Double Trouble   •  Be Free
Season 7
Beginning of the End   •  Just Desserts   •  And Brown Is the New Orange   •  How to Do Life   •  Minority Deport   •  Trapped in an Elevator   •  Me as Well   •  Baker's Dozen   •  The Hidey Hole   •  The Thirteenth   •  God Bless America   •  The Big House   •  Here's Where We Get Off
Community content is available under
CC-BY-SA
unless otherwise noted.